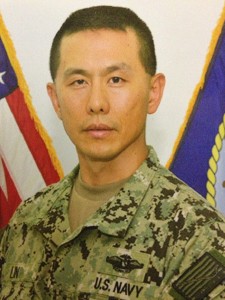 CAPT Henry Lin, MC, USN is the department head of general surgery & urology at Naval Hospital Camp LeJeune & practices minimally invasive surgery. He is an assistant professor of the Uniformed Services University of the Health Sciences where he had earned his M.D.
He had previously completed a Bachelor's degree at University of California, Berkeley. He completed the Harvard Minimally Invasive Surgery fellowship at Beth Israel Deaconess Center & built the National Capital Area Bariatric Surgery Program based at Walter Reed National Military Medical Center in Bethesda, Maryland.
CAPT Lin has 5 operational deployments, including Iraq, Afghanistan, Africa, & 2 WestPacs, earning the Meritorious Service Medal as Officer in Charge of Expeditionary Medical Facility Djibouti in 2013. His numerous publications include the Laparoscopic Skills chapter in the Mastery of Surgery, haptics in laparoscopic simulation, several chapters for laparoscopic approach to peptic ulcer disease, contributions to the 4th edition of Emergency War Surgery, Fleet Surgical Team experience, & Providing Surgical Training & Assistance in a Developing Country
during Military Assistance.
He is a member of the program committee for the military symposium, military working group, & Quality Outcomes Safety Committee for SAGES as well as a member of the Quality Improvement & Patient Safety committee for American Society of Metabolic & Bariatric Surgery.