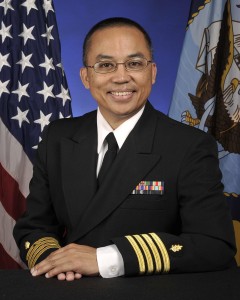 Captain Ignacio is the Program Director for General Surgery at Naval Medical Center San Diego (NMCSD). Prior to this he served as the Associate Program Director, Division Chair of Pediatric Surgery and the Uniform Services University of Health Sciences medical student clerkship director at NMCSD. He is also a Voluntary Assistant Clinical Professor in the Division of Trauma, Surgical Critical Care, Burns and Acute Care Surgery at University of California San Diego School of Medicine.­
Board Certified in both General Surgery and Pediatric Surgery by the American Board of Surgery, Dr. Ignacio is a member of American College of Surgeons, American Pediatric Surgical Association, American Academy of Pediatrics, Pacific Association of Pediatric Surgeons, Children's Oncology Group, International Pediatric Endosurgery Group, Society of American Gastrointestinal and Endoscopic Surgeons, Society of Military Surgeons, Association of Military Surgeons of the United States, Association of Surgical Education and the Association of Program Directors in Surgery.
Captain Ignacio has a strong interest in humanitarian missions and was selected as Director of Surgical Services (MERCEX 2010), Advance Team Lead surgeon, Designated Institutional Officer and solo military pediatric surgeon in the Pacific Partnership 2012 humanitarian mission, which provided medical care to >100,000 patients in host nations and surgical care to over 800 patients in Indonesia, Vietnam, Cambodia and the Philippines.
Dr. Ignacio has been an outstanding leader and mentor among residents, interns and medical students. His impressive role as a surgical educator has been demonstrated by his recent teaching awards: Arnold P. Gold Foundation's Humanism and Excellence in Teaching Award (2009), General Surgery Mentor of the Year Award (2010, 2012, and 2013), Allshouse-Jones Teaching Award (2010, 2013) and the Donald L. Sturtz Excellence in Teaching Award (2011) and the Naval Medical Center San Diego Master Clinician Award (2012). Captain Ignacio is currently a pediatric surgeon and the program director of the largest U.S. Navy general surgery training program. He lives in northern San Diego with his wife and son, Ann and Romeo (III).