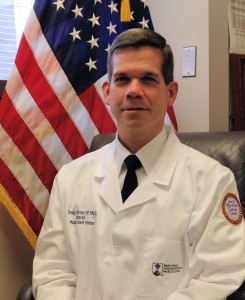 CRAIG D. SHRIVER
Colonel, Medical Corps, United States Army
Director, John P. Murtha Cancer Center
Walter Reed National Military Medical Center
Colonel Craig Shriver is a native of Reading, Pennsylvania.  He earned a Bachelor's Degree in Biochemistry (Cum Laude) from the Albright College in Reading, a Medical Degree (Alpha Omega Alpha) from Temple University School of Medicine.  Colonel Shriver was commissioned in the US Army Medical Corps in 1984.  His post graduate training included his surgical internship and residency at the Walter Reed Army Medical Center.  Dr. Shriver was selected for advanced fellowship training in surgical oncology at the Memorial Sloan-Kettering Cancer Center in New York.
After completing his surgical oncology fellowship he was assigned to Walter Reed Army Medical Center as a staff general surgeon.  He took over as Chief of Surgical Oncology in 1995, and in 1998 became the Director of the Surgery Residency Program, and Chief of General Surgery in 2001.  February 2000 he was selected by the command to become Director of the congressionally-mandated CBCP, a military-civilian coalition providing excellent clinical care and cutting-edge breast cancer research.  This research project has been funded over $100 million since its inception, and has amassed one of the world's most extensive human biorepositories of breast cancers and tissues, which are used by researchers around the world to study breast cancer and its treatment. He was named Interim Director of the Cancer Center at Walter Reed NMMC Bethesda in September 2011, and then named Director of the John P. Murtha Cancer Center at Walter Reed Bethesda in November 2012.
COL Shriver's military education includes completion of the Advanced Officer Course, and graduating with honors (top 10% of class) from the Command and General Staff College in June 2000.  His operational assignments include a two-year tour at Fort Bragg, North Carolina, and direct surgical support of four overseas combat military operations (tours).  He deployed in support of Operation Just Cause (the liberation of Panama in 1989, serving as Chief Triage Officer and Surgeon for the Forward Surgical Team of the 5th MASH.  He then went on to become Surgeon of the 307th Medical Battalion of the 82nd Airborne Division, providing far-forward surgical support during Operation Desert Shield and Desert Storm (1990-1991), and earning the coveted Combat Medical Badge.  He was decorated by his command for his direct surgical support of the medical response to the terrorist attack against the Pentagon on 11 September 2001.  Since the terrorist attacks of 11 September 2001, as chief of General Surgery at the nation's largest military hospital, he has led his surgeons in the treatment of over 7,500 patients from Operations Iraqi Freedom and Enduring Freedom (Afghanistan).  In 2007, COL Shriver served in Afghanistan (along the Pakistan border) with the 1-91 Cavalry, 173rd Airborne, winning the coveted "Order of the Spur" award from his cavalry unit, for gallant and intrepid service under fire on the front lines of combat in Afghanistan.  COL Shriver also was decorated with the Combat Action Badge (CAB) during that tour, for service under fire in direct engagement with enemy forces.  COL Shriver just completed his fourth combat tour, second in Afghanistan, returning on 20 February 2011.
Other military awards include the Legion of Merit, Meritorious Service Medal, Joint Services Commendation Medal, Army Commendation Medal with two oak leaf clusters, and the Civilian Outstanding Service Medal.   He was awarded the prestigious "A" Designator Award from the Surgeon General, given to only a select few military physicians who are the leaders of healthcare in the Army.  He was awarded the Order of Military Medical Merit, given to "civilian or military physicians who meet the highest standard of "citizen-soldier-physician."  In 2008 Dr. Shriver was promoted to the rank of Professor of Surgery at the Uniformed Services University of the Health Sciences in Bethesda, Maryland.  Dr. Shriver in 2010 was elected into the prestigious American Surgical Association, the oldest and most premier of all surgical societies in the world. Dr. Shriver has been an author on three separate articles published in the prestigious New England Journal of Medicine, and has also been an author on an article in the world's most premier research publication, NATURE, in October 2012.