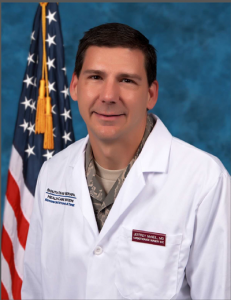 Dr. McNeil earned a Bachelor's Degree in Chemistry and Biology from Southern Methodist University in Dallas, TX. and received his Medical Degree (Alpha Omega Alpha) from the University of Texas Health Science Center at San Antonio. His post graduate training began with surgical internship and residency at the combined Wilford Hall Medical Center/UTHSCSA General Surgery Residency program. Dr. McNeil performed a one-year fellowship in surgical research at the Wilford Hall Medical Center Clinical Research Division. Following completion of General Surgery Residency, Dr. McNeil was selected for residency in Cardiothoracic Surgery at Wake Forest University School of Medicine. Dr. McNeil is certified by the American Board of Surgery and the American Board of Thoracic Surgery.
After completing cardiothoracic residency he was assigned to Wilford Hall Medical Center as a staff cardiothoracic surgeon and received an appointment as Clinical Assistant Professor in the Department of Cardiothoracic Surgery at the University of Texas Health Science Center @ San Antonio. Dr. McNeil worked full-time as faculty at UTHSCSA from 2005-2010. He has served two deployments to Balad Air Base, Iraq as Chief of Cardiothoracic Surgery at 332nd EMDG (Air Force Theatre Hospital) in 2004 and 2007 and received the Meritorious Service Medal in 2008. He has been awarded the Air Force special experience identifier MF for "Excellence in Clinical or Academic Teaching".
In 2012, a joint DoD-VA program in Cardiothoracic Surgery was initiated in San Antonio and Dr. McNeil served as first Section Chief of Cardiothoracic Surgery at Audie Murphy VA Hospital from January 2012 to January 2014. This joint program lead to 250% increase in surgical case load for the CT Surgery Service. In January 2014, Dr. McNeil was selected to his current position as Chief of Cardiothoracic Surgery at San Antonio Military Medical Center . He is currently serving as 2014-15 President for Society of Air Force Clinical Surgeons.