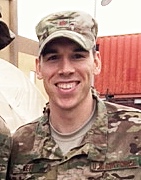 Major Neff is a board-certified general surgeon and one of the lead USAF surgical researchers at the 60th Clinical Investigation Facility, Travis AFB, CA. He leads a team with three overarching goals: 1) empowering USAF research residents to become the next generation of military surgeon-scientists 2) performing quality translational research in combat casualty care 3) forging lasting collaborations between major academic medical universities, other DoD research facilities, and the local 60th MDG CIF.
His current research focus is in non-compressible truncal hemorrhage control and traumatic brain injury. These interests arose from his experiences with U.S. and host national casualties during a deployment to Afghanistan in 2013-2014. He has a keen interest in developing new resuscitation paradigms and developing innovative clinical solutions in parallel with the translational research efforts. He is the recent recipient of several DoD grants to study novel methods of non-compressible hemorrhage control and expanded applications of existing endovascular technology. He has authored 20+ peer-reviewed publications and book chapters in the fields of trauma, pediatric surgery and regenerative medicine.
Major Neff will be pursing additional surgical training in pediatric surgery at Emory in Atlanta, GA in the summer of 2016.