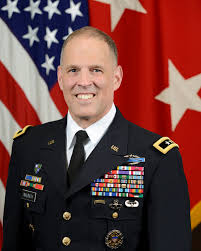 Major General Daniel R. Walrath, originally from Pensacola, FL, was commissioned a lieutenant of Infantry following graduation from the United States Military Academy at West Point in May of 1988.
In March of 1989, 2LT Walrath was assigned to the 1st Battalion, 504th Parachute Infantry Regiment, 82nd Airborne Division, Fort Bragg, NC. There he served as a Rifle Platoon Leader and Anti-Armor Company Executive Officer and participated in Operation JUST CAUSE in Panama and Operations DESERT SHIELD/STORM in Saudi Arabia and Iraq. He was then assigned to 3d Battalion, 75th Ranger Regiment at Fort Benning, GA where he served as a Ranger Rifle Platoon Leader.
Following graduation from the Infantry Officer Advanced Course and Bradley Leader Course in 1993, CPT Walrath was then assigned to 1st Battalion, 5th Infantry (Mechanized) in the Republic of Korea where he commanded Delta Company. In 1994, he then moved to 1st Battalion, 75th Ranger Regiment at Hunter Army Airfield, GA where he served as a battalion staff officer, commanded Bravo Company, and participated in Operation UPHOLD DEMOCRACY in Haiti.
Following completion of Command and General Staff College at Fort Leavenworth, KS in 1999, MAJ Walrath was then assigned to the 101st Airborne (Air Assault) Division at Fort Campbell, KY. There he served as the 3d Brigade S4 and the operations officer for 1st Battalion, 187th Infantry (RAKKASANS) and participated in Operation JOINT GAURDIAN in Kosovo. In 2001, he then returned to 1st Battalion, 75th Ranger Regiment where he served as the battalion's executive officer and participated in Operations ENDURING FREEDOM and IRAQI FREEDOM. In 2003, MAJ Walrath was then assigned to U. S. Special Operations Command at MacDill Air Force Base, FL where he served in the operations directorate.
From June 2005 to June 2007, LTC Walrath commanded 1st Battalion, 6th Infantry Regiment (Mechanized) of the 1st Armored Division in Baumholder, Germany to include participation in Operation IRAQI FREEDOM 05-07. From June 2007 to April 2008, LTC Walrath served as a task force senior observer controller at the Joint Multinational Readiness Center in Hohenfels, Germany. COL Walrath then commanded 3rd Battalion, 75th Ranger Regiment from May 2008 to July 2010 to include three deployments in support of Operations ENDURING FREEDOM and IRAQI FREEDOM. Following completion of the Naval War College in Newport, RI, COL Walrath commanded the 2nd Brigade Combat Team – STRIKE – of the 101st Airborne Division (Air Assault) from July 2011 to July 2013 to include a deployment to Afghanistan in support of OEF XIII. He then served as the Chief of Staff for the 7th Infantry Division at Joint Base Lewis-McChord, WA from July 2013 to Jun 2015.
As a General Officer, Brigadier General Walrath first served as a Deputy Commanding General for the 1st Armored Division at Fort Bliss, TX, with duty as the Commander of the Combined Joint Operations Center-Jordan from Aug 2015 to Aug 2016. He then served on the Joint Staff in the J3 Directorate from Sep 2016 to May 2018. Most recently MG Walrath served as the Deputy Chief of Staff for Strategy & Policy in Kabul, Afghanistan as part of NATO's Resolute Support Mission & U.S. Operation Freedom Sentinel.
MG Walrath wears the Ranger tab, Master Parachutist badge with bronze star, Combat Infantryman's badge with star, Expert Infantryman's badge, Pathfinder badge, and Air Assault badge.