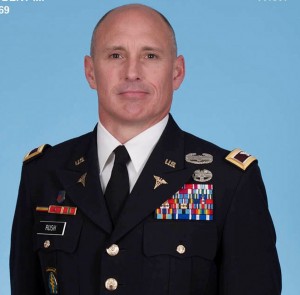 Colonel Robert M. Rush, MD, FACS is the Chief of the Department of Surgery and Director of Surgical Education, Andersen Simulation Center at Madigan Army Medical Center in Tacoma, Washington. He is a graduate of the United States Military Academy, West Point and the Uniformed Services University.
Dr. Rush is a board certified General Surgeon, completing his residency in 1995 at the Ohio State University and minimally invasive surgery fellowship at the Mayo Clinic, Scottsdale, in 2006. His practice of General Surgery spans 17 years. During that time he has contributed extensively to the literature and he has lectured locally and internationally on topics in general surgery, military medicine, and surgical education through simulation. His military service has taken him to locations throughout the world to include Bosnia, Central and South America, and Southwest Asia where he has provided needed far forward surgical care to the men and women of the Armed Forces.
Dr. Rush is known for his work in surgical simulation, disaster medicine and team training. He is acknowledged throughout the Army Medical Department and the Department of Defense as a leader in the area of surgical simulation and funnels significant energy towards the development of realistic surgical simulation models that allow all health care providers to train on life-like surgical and injury simulators prior to beginning their surgical and deployment experiences. Dr Rush is also a TeamSTEPPS trainer and has incorporated TeamSTEPPS into the culture of the operating room at Madigan Army Medical Center and the Army Medical Command.